We offer a variety of solutions in the overhead & floor conveyor industry. Our products and solutions span a wide range of material handling operations such as parts handling. In addition to our standard conveyor systems, we can custom engineer material handling equipment for many unique applications. These systems include: Slat, Dual Strand & Roller Flight Chain Conveyors, Transfers, Turntables, Heavy Duty Belt & Roller Conveyors, Scrap & Recycling Conveyors, and Electrified Monorails.
Continuous Powered - Enclosed Track Overhead Conveyor
These systems utilize an enclosed steel track which guides the trolleys and protects them from direct contamination.
Applications include: finishing and processing systems, assembly operations, parts transfer, storage, over & under, delivery, etc.
A wide variety of part hooks, swivels, indexers, and custom designed carriers are available to handle your product.
Model Number
1500
2000
8000
All-Flex®
Max Trolley Load
50 lb
80 lb
75 lb
50 lb
Max Chain Pull
360 lb
720 lb
750 lb
600 lb
Continuous Powered - I-Beam Track Overhead Conveyors
True workhorses of industry, these medium and heavy duty overhead conveyors offer capacities ranging from 200 to 1,200+ lbs.
Applications typically include:
large finishing and process systems,
assembly operations,
transfer, storage & delivery of heavy items.

For conveying medium to heavy parts over short or long distances, these conveyors provide maximum performance and reliability.
Max Trolley Load
250 lb
500 lb
1200 lb
Max Chain Pull
1800 lb
4000 lb
6500 lb
Power & Free - Overhead Conveyors
Power & Free is a natural progression from continuous powered, overhead conveyors. These conveyors offer maximum cost effectiveness and flexibility in materials handling
For the first time within the 500 lb to 1000 lb load category, a predictable and positively powered system with "on-line" accumulation and switching capability is available to industry.
The AC 8500 Series is a system that will solve both simple and complex handing problems. It is possible to interconnect many operations within a plant, while simultaneously accommodating specific local process variations.
Allied's Power & Free conveyors are readily adaptable to computerized operation, thereby permitting precise control throughout the entire materials handling system.
Larger capacity systems are also available.
Accumulation centers as small as 8″
Varying chain speeds to maximize flexibility
Max Trolley Load
250 lb
500 lb
1200 lb
Max Chain Pull
1800 lb
4000 lb
6500 lb
Design flexibility coupled with simple installation.
The 8000 Series provides proven performance in systems ranging from simple gravity flow to complex powered applications. The 8000 is a medium duty conveyor (750 lbs. chain pull capacity) that operates in an inverted mode.
An enclosed steel track protects and guides the chain assembly, eliminating the need for special wheel or roller turns.  In addition to traditional conveying, applications include numerous special designs such as paint systems and assembly processes for maximum cleanliness and product accessibility.
Several other types of floor conveyors are also available, with varying capabilities to suit any need.  (ex. In-Floor Drag, Towlines)
Special Applications / Engineered Systems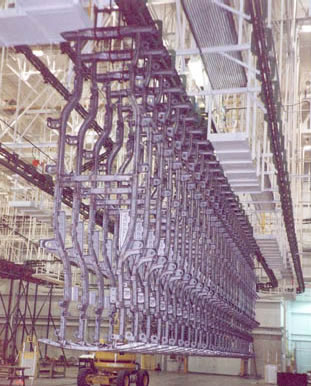 Truck Frame Manufacturing – Frame Transfer Conveyor
This Power & Free Conveyor System is used to transport truck frames from the assembly plant to the E-Coat Process building and from E-Coat to shipping.
Automotive Frame Manufacturing
Multiple switch arrangement for the sorting of frames.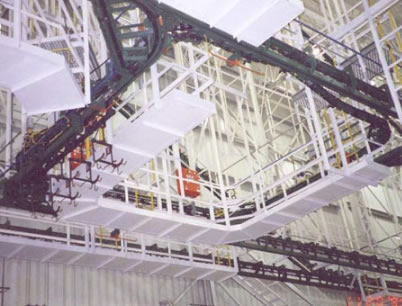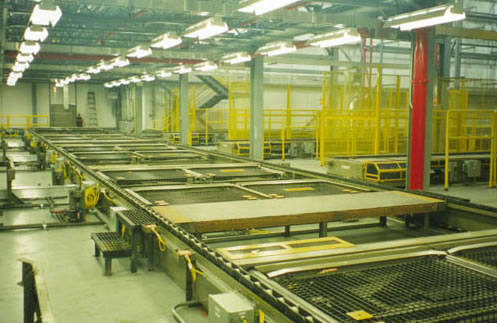 Automotive Manufacturing Facility – Inline Vehicle Sequencing System
View of cross transfer conveyor with pop-up roller transfers to ASRS in-feed conveyors.
Automotive Manufacturing Facility – Turntable, Transfer & Accumulation
Turntable, transfer and accumulation conveyors for transfers to and from ASRS system.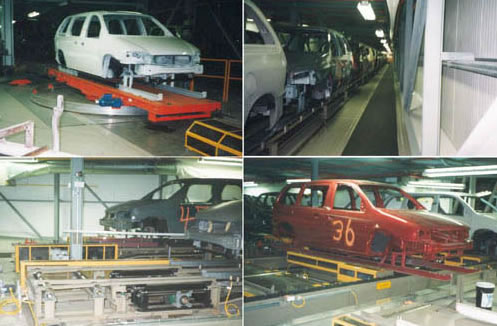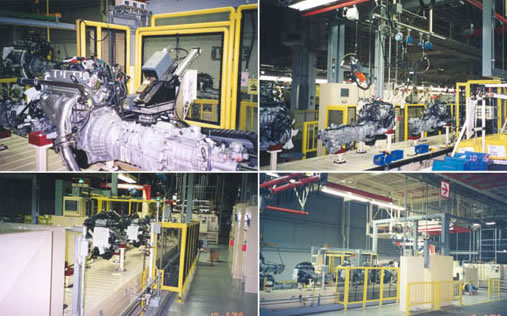 Engine Dress & Delivery – Automotive Manufacturing Facility
Project includes Pedestal Slat Conveyor, Cranes, P&F (Power & Free) Rework & V.I.N. (Vehicle Identification Number) Making Station.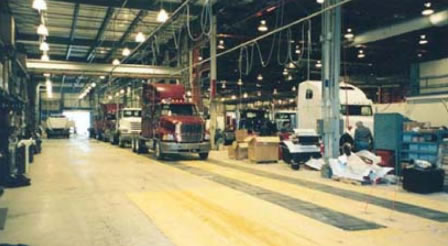 Heavy Truck Manufacturer - Final Trim & Inspection Line
System includes a Flat Top Conveyor as well as several Over & Under style In-Floor Towlines for transport of vehicles through various assembly operations.
Inverted Power & Free System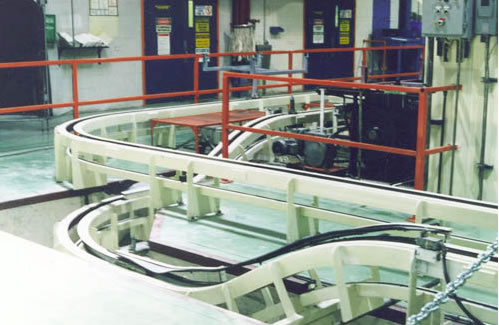 Inverted Power & Free System
Parts Transfer Conveyor – Automotive Component Facility
Parts (not shown) are automatically transferred from Dual Strand Chain Oven Conveyors to P&F and then transferred to Unload/Paint Line Conveyor.
Metal Scrap Handling System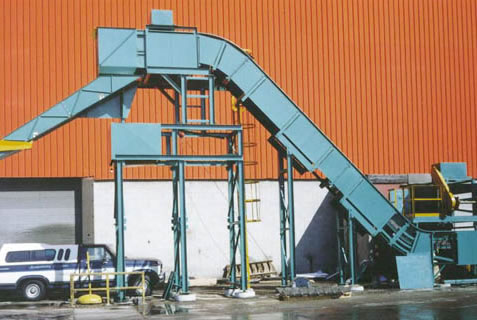 Metal Scrap Handling System
System with Slewing Discharge Chute Automotive Component Stamping Facility
System receives metal scrap from multiple stamping presses and automatically loads the scrap gondolas.
Mold Transfer Conveyor Systems
Partial system shown during in-house setup and test. Finished length of the system is 300 feet.